Westminster Trophies and Awards
If you have WKC stuff, I am always willing to buy memorabilia having to do with Westminster. If you do not want to sell, please scan in or have a picture taken of it so that others can enjoy it as well.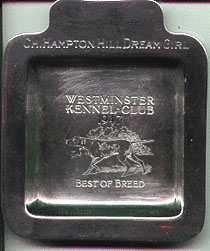 Ch. Hampton Hill Dream Girl
1947
Best of Breed
Courtesy of "Bonnie" and "Patricia"