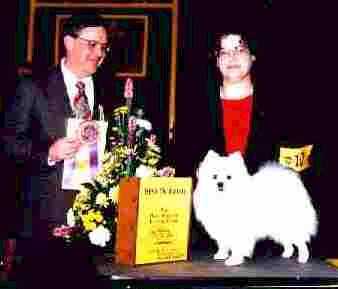 Ch. Frostiwyt Staker Bootnick OFA CERF
"Boots"
By Carolyn E. Jester
September 10, 1993 was a very special day for me, it was the day I first laid eyes on "Boots", (CH Frostiwyt Staker Bootnick). The circumstances leading to that day were unusual. A very special lady by the name of Flo Davis had been telling me that she had seen a dog she thought belonged with me. At that time the dog was owned by Judy Jones in Utah. Flo called me one day to tell me about the beautiful little toy American Eskimo she had seen. She was convinced he was just what I needed. Flo said she would talk to Judy and see if she would sell this dog. Flo could be very persuasive, Judy agreed.
Flo followed Boots' show career closely. She would call frequently to ask how Boots was, and enjoyed hearing about all the cute little things he did. She was thrilled everytime Boots did well in the UKC shows. Then in July 1995, the American Eskimo became fully recognized in AKC.
July 9, 1995 was the day Boots earned his first point in AKC. I had taken Boots to his first AKC point show in Sedalia, MO. Driving back from the show that day, Boots and I came very close to having a very serious accident. I was driving on a two way highway, around a big curve, I looked down for just a second to check my speed, and when I looked up, there was a red car in my lane about to hit me head on. I swerved to the right, and apparently the other driver, seeing me at the same time, also swerved. My left front fender slammed into his left side just behind the door. The impact threw each of us away from the other, avoiding a potentially fatal collision. I pulled off the road, and sat there shaking. When I looked back, the driver of the other car was disappearing down the road. The next day I learned Flo had passed away the same day of my near fatal accident.
Boots was a joy to show. He loved the show ring, and went on to acquire his AKC Champion title in less than three weeks. He also earned a UKC Grand Champion title, and AEDCA Champion title. Once he finished his AKC Championship, I began to special him in AKC. Over the next few months, he took 28 Best of Breed wins, and four group placements. He finished 1995 as the #1 All-systems American Eskimo.
With Boots doing so well, it was only natural to take him to the Cadillac of dog shows...... Westminster. What an exciting trip that was! February 1996, the first year our breed was allowed to enter the prestigious Westminster dog show. There was no way I would send my special little boy with a handler. Boots and I were a team, so I decided I would show him regardless of my ineptness as a handler, and take our chances.
Westminster Kennel Club show is without a doubt, the most exciting show I have ever attended. Things were a bit chaotic, and I tried desperately to find a grooming table that I could beg, borrow, or rent. It was not possible to bring my own on the plane. One very nice person did offer to let me use his, but others got it instead, so Boots and I did the best we could on top of our #100 Vari-Kennel. I was afraid I would not be able to do very well under those circumstances, but fortunately Boots did not need much help to be eye-catchingly georgous.
Boots showed himself well, however, there were many excellent dogs in the ring, and Boots was the only toy, so he looked out of place out there with all the big standards.
In spite of being outsized, Boots was not intimidated. When the judge began to make his final selections, I was so nervous, and just wanted it to be over. First the judge selected a standard male, and sent him to the front of the line. Then he selected a standard female and sent her to the front of the line. At that point I thought it was over. He had chosen his BOB and BOS. However, he then walked up to me and asked me to take my dog to the front of the line. What an exciting feeling....... Best of Breed at Westminster. It was an experience I will never forget. How I wished Flo had been there to see him win. She would have been so happy and proud. I like to think that she was watching, and smiling down on us.
Boots has since been retired from the ring, and lives the life of a spoiled rotten house pet, and pampered stud dog. He has produced many beautiful children, some of which are starting to make their mark in the show ring also. His son, Frostiwyt Boots' Cyber Talk, did his daddy proud in Wichita April 4 and 5. At the tender age of 9 months, Cyber went BOB over three Specials, taking a 5 point major. Then he went into Group for the first time, and although he did not place in the top four, he was the 5th dog selected in the final cut. Making me and his daddy very proud. The second day of the Wichita show, Cyber took Winners' Dog, and earned another 5 point major. His half sister, Frostiwyt Boots Sugar Krystl, now only 9 months old, took BOB her first time in the show ring, even with some pretty tough competition.
Other children Boots is very proud of include: CH Jade Frostiwyt Eskibear
NA,
owned by Helen Dorrance of Austin, TX. CH Frostiwyt Peggy Sue, owned by me, but trained, shown, and loved by Helen Kreger of Belleville, IL. CH Fair Frostiwyt Boots Scooter. owned by Margaret Hamilton of Pomfret, MD.
I am extremely grateful to Nathan & Denise Staker for breeding Boots, to Judy Jones for allowing me to own him, and to Flo Davis for her part in bringing us together.
Go to Frostiwyt Kennel Homepage
Hey Look! Boots is a Purina Champion!
Learn more about the American Eskimo:
See the AKC Standard for the American Eskimo
National American Eskimo Dog Association- A UKC Organization
Heart Bandits- American Eskimo Dog Rescue